Countertop Aquasana Water Filter AQ-4000
The newly designed countertop Aquasana Water Filter
became the gold standard when it won 6 straight Consumers Digest "Best Buy" awards. Then in 2010, the flagship AQ-4000 drinking water filter added "Healthiest Product" from Health Magazine to its awards.
No other home water filter, at any price, has ever produced better results than Aquasana!
For 1/10th the cost of bottled water, the Aquasana water filter removes over 99% of chlorine and gives you the healthiest, best-tasting water on Earth.

Voted 2010 Healthiest Product award by Health Magazine!

(Note: Add $20 for Brushed Silver model that comes with stylized "paddle" diverter switch)
The Aquasana countertop drinking water filter is now available in 3 colors with a new contemporary design. The sleek new look reminds kids and adults that they are making a healthy choice every day when they drink a great-tasting glass of ultra-filtered drinking water!
The quantity and quality of the water we drink determine the body's ability to metabolize and shed excess fat, and properly maintain the largest organ, the skin.
The Aquasana Water Filter utilizes a patented twin-cartridge multistage filtration process that uses a combination of the most effective home water treatment technologies – carbon filtration, ion exchange and sub-micron filtration.
The Aquasana Water Filter installs in minutes on standard kitchen sink faucets and provides up to 30 gallons an hour of ultra-filtered water for all your drinking and cooking needs.
The Aquasana AQ-4000 filters out chlorine, lead, prescription drugs, pesticides, Volatile Organic Chemicals (VOCs), pharmaceuticals, MTBE and cysts (chlorine resistant parasites) and leaves in natural trace minerals. The Aquasana Water Filter transforms your tap water into a virtually unlimited supply of healthy, great tasting drinking water at the touch of a switch.
Voted "Best Buy" by Consumers Digest magazine 6 straight years from 2003 to 2008!
How the 2-Stage Aquasana Water Filter Works: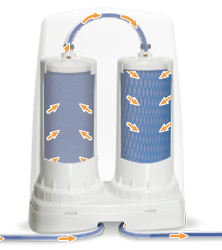 "A" Cartridge (left cartridge in diagram):
Flters out heavy sediment and tiny microscopic particles that can cause cloudiness, unpleasant taste, and odor in your water. It also filters out chlorine, the most concentrated and competitive chemical in our water.
"B" Cartridge (right cartridge in diagram):
Focuses on the more difficult contaminants like lead and VOC's. Lead is filtered out by a complex ion exchange process where lead ions are replaced with potassium ions. Potassium is one of the minerals that gives water a natural spring water taste and a neutral PH.
Next for the Aquasana Water Filter "B" cartridge is the adsorption of VOC's, like herbicides, pesticides and industrial solvents. The "B"cartridge also has a 0.5 micron mechanical filter for chlorine resistant organisms and common water-borne parasites that can cause flu like symptoms for most, but can also be fatal to small children and the elderly.
The replacement cartridges (A&B) for the AQ-4000 countertop water filter cost only $47.99 (with "Water For Life") and last 6 months or 500 gallons.
Important: Do not use Aquasana Water Filter where water is microbiologically unsafe or with water of unknown microbiological quality, except that systems claiming cyst reduction may be used on water containing cysts.
Aquasana is the #1 rated home water filtration system in America.
What Aquasana Water Filter Customers Are Saying
"I purchased the Aquasana counter top system and couldn't be happier with the results. I bought one for my sister a couple of weeks later. The water tastes 100x better.
S. Acuna, 04/2010
"We are very happy with Aquasana water filters. This is the lowest price for the best quality water on the current market. Thank you."
M. Spiskova, 01/2010
"The installation of our Aquasana filter went very well. The installation instructions were complete and easy to follow. We are all enjoying clean refreshing water. We all seem to be drinking more water thanks to the convenience of having the tap at the sink."
L. Lalande, 02/2010
"The water filter was easy to install and we love it! No more bottled water for us!"
S. Heffernan, 09/2009
If you are interested in having the award-winning AQ-4000 Aquasana Water Filter filter system installed under the sink, you can choose the basic Under Sink Water Filter Aquasana AQ-4600 system with a push-button chrome faucet or the premium Under Sink Water Filter Aquasana AQ-4601 that comes with your choice of 3 beautiful designer faucet finishes.
Return to homepage from Aquasana Water Filter
Click above to shop factory direct