Aquasana EQ-300-85 Whole House Well Water Filter
he Aquasana Rhino EQ-300-85 well water filter system is specifically designed for well water issues and is equipped with KDF-85, an upgraded media filter.
This item requires a special order. To inquire or purchase the well water treatment system by Aquasana, click the link above and call the phone number in the upper right corner.
This special filter removes large quantities of iron oxides (rust water) and hydrogen sulfide (sulfur or rotten egg smell) from well water sources, as well as from municipal supplies. Like the standard Rhino, the whole house well water filter system filters out chlorine, pesticides, herbicides, heavy metals, volatile organic compounds (VOCs) and synthetic chemicals.
The EQ-300 has a 10-year history of outstanding performance! This amazing high-capacity, 4-stage, dual-chamber water filter is easily installed in any home and has a 300,000 gallon / 3-year certified capacity, the best value of any whole house system in America. For less than a dollar a day you get to drink, shower, bathe, and live in healthy water!
The Rhino Whole House water filtration system has completed three years of evaluation by Underwriters Laboratories. Beware of companies that claim certified components versus a certified product. If the product itself is not certified, you have no way of knowing what you are getting! No competing product offers more documentation of quality than the Rhino.
Features
• Filters out 99.99% of chlorine
• Removes iron and other hardening agents down to 5 microns
• No electricity and no backflushing (zero wasted water)
• Improves the taste and odor of water
• Improves indoor air quality
• No pressure loss
• Virtually no maintenance
• Lengthens life of plumbing and fixtures
• Lasts for 3 years / 300,000 Gallons
• Made in the USA


The 4-stage filtration process supplies better quality than bottled water and you get to drink, shower, bathe and live in healthy water! The Aquasana well water filter utilizes a patented four-stage filtration for optimum quality
Stage 1: The sediment pre-filter uses a replaceable cartridge that mechanically filters contaminants down to five microns. This first stage is important for the removal of sediment, dirt, rust and debris in the water supply that can impair water flow.
Stage 2: A process called water atomization fuses together a natural blend of zinc and copper granules (KDF-55D). The result is that the molecular structure of chlorine is altered, thus turning it into harmless zinc chloride. The pH balance, taste and odor of the water are all enhanced.
Stage 3: Contains small granules of high-grade activated coconut shell carbon for an expanded surface area, which provides the highest adsorptive capacity and maximum reduction of synthetic chemicals.
Stage 4: Contains large granules of bituminous activated carbon for improved filtration of unwanted contaminants. This medium is recognized by the EPA as the "best available technology" for water filtration
Installation
The Rhino requires 45 inches of vertical clearance, 9 inches at the base, and 24 inches of line length for proper installation. Typical installation takes 1.5 to 2.5 hours by a licensed plumber, at a cost of $175 to $250. Please include the incoming pipe size (usually 3/4″ or 1″). Each Rhino well water filter system is certified to filter water for a 3200 square foot home. If your home is greater than 3200 square feet you will likely require a Dual Rhino System.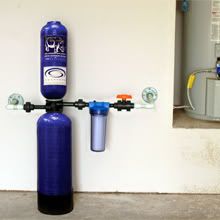 Important Rhino Facts
The Rhino EQ-300 Whole House Water Filter has completed three years of evaluation by Underwriters Laboratories (UL). The product, the factory, and all performance claims are certified by UL to NSF standard 42 with class 1 performance. And to think this product was once only offered through plumbing contractors and home builders for more than $1,500!
The main filter unit is easily replaced (no plumber needed) every 3 years for only $639.20, that's less than $215.00 a year to have clean, healthy water flowing from every outlet in your home. It's one of the most valuable and beneficial home appliances you can own!
The Aquasana Rhino EQ-300 will perform similarly to a standard water softener, without adding unhealthy and unnecessary sodium to your drinking water. It is guaranteed to remove calcium, iron, and other hardening agents down to 5 microns, while retaining healthy mineral deposits. The 8 gallons per minute flow rate means no pressure drop!